Precalculus is a class that was not often taken at the college level as most high school students had already taken it, but also due to it not being completely necessary for many college students.  Recently, however, particularly colleges in Maricopa County have made it a requirement for many majors on top of college algebra.  While its name infers that it be a precursor to calculus, most of the class is not.
Common Misconceptions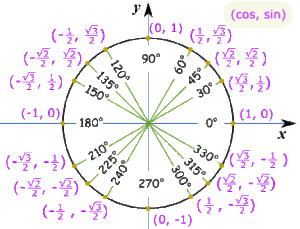 In a select few Phoenix/Tempe/Scottsdale high schools, precalculus is actually split into two semesters: trigonometry, and precalculus.  It's surprising how few high school math curriculums actually use this naming as this is realistically what the class is.  College mathematics sticks to only calling it precalculus, mostly due to their schedule structure having only one semester.  The truth is it's more trigonometry than it is preparation for calculus, and the majority of students aren't prepared for how rigorous it can become.
College precalculus assumes a baseline geometry knowledge that most have forgotten, or simply weren't taught to that extent in high school.  The Unit Circle, shown above, is the beginning of the class and becomes overwhelming very quickly.  This really boils down to the assumed knowledge you're expected to have of geometry as trigonometry is simply an extension on it.  Most geometry high school classes touch on basic trigonometric ratios, but don't go near in depth to what this class expects.
The nice thing is that students typically only need a precalculus tutor to power through the first few lessons before being able to handle the class themselves.  Most math classes students assume a regular tutoring schedule is necessary, but realistically the mastery of the fundamentals allow them to conquer the class on their own.
Before you get too deep in your class, call A-Squared Math Tutoring for a precalculus tutor.  Compared to other math classes, precalculus can be a simple ordeal if you get a tutor soon enough.  Don't let triangles beat you up!